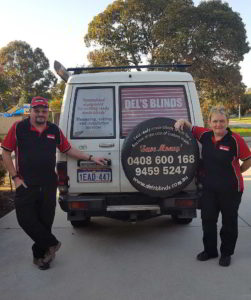 I have now been cutting, altering and installing ready-made blind and curtain products since the year 2000 – overs 16years industry experience! Previously I had worked as a Décor Sales Consultant for Kresta blinds since 1996, but resigned to have our first child in 2000.
In August 2015, Kim -my wonderful husband, joined me in our small family business. Kim had worked with the one company for 34years as a fitter and turner, but as our 2 daughters were now teenagers we could spend more time building our family business. He has brought with him more knowledge of ways to deal with different building structures.
We pride ourselves on delivering excellent, quality work in a prompt, reliable, professional and friendly manner. We are always putting the needs of customers as our first priority and in doing this we always are helping our customers save money!